YouTuber's Pick: Bundles Curated by Our Favorite YouTubers
By: Carolina Malis
Learning about new skincare products is always a fun thing to do, and even better
when you get to do so from your preferred content creators!
For that same reason, this month, we partnered up with two of our favorite YouTubers, EuniUnni and ThizisDanny, to put together bundles featuring some of the Neogen products they love the most.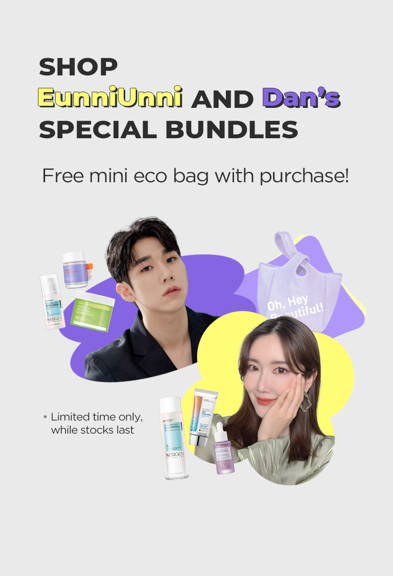 EuniUnni's Bundle
Eunice's set features three simple steps that have helped her improve
her skin texture & overall skin tone.
Real Ferment Micro Essence: This deeply hydrating and brightening essence contains more than
93% naturally fermented ingredients, including Bifida ferment lysate and
28% saccharomyces ferment filtrate to deliver instant moisture and skin-plumping benefits.
This fragrance-free fermented treatment is formulated with 17% birch juice to add hydration
and 9% rice extracts to illuminate skin from within. This essence is the key to glowing,
supple "honey skin" full of natural brighteners, antioxidants, and cell-communicating ingredients.
Real Bakuchiol Firming Serum: Neogen Dermalogy Real Bakuchiol Firming Serum provides
the ultimate preventative care for sensitive skin by boosting skin elasticity and vitality.
This serum is formulated with bakuchiol, a natural anti-aging ingredient found in plants
that stimulate collagen and skin elasticity along with multiple peptides.
It's a gentler alternative for retinol that doesn't irritate. Vitamin C helps brighten while plant extracts
(azulene, lavender, aloe, tea tree, and eggplant) help soothe, hydrate, and even texture.
Day-Light Protection Airy Sunscreen: Fast-absorbing and airy, the Day-Light Protection Airy
Sunscreen won't leave you with any greasiness or white cast. Twenty kinds of plant extracts, including
aloe, avocado, acai, and hibiscus, moisturize and calm skin, even under strong sunlight.
And don't fear clogged pores: these ingredients help control sebum production as well.
Use code "EUNIUNNI15" upon checkout to get the 15% discount AND a lovely fabric tote bag!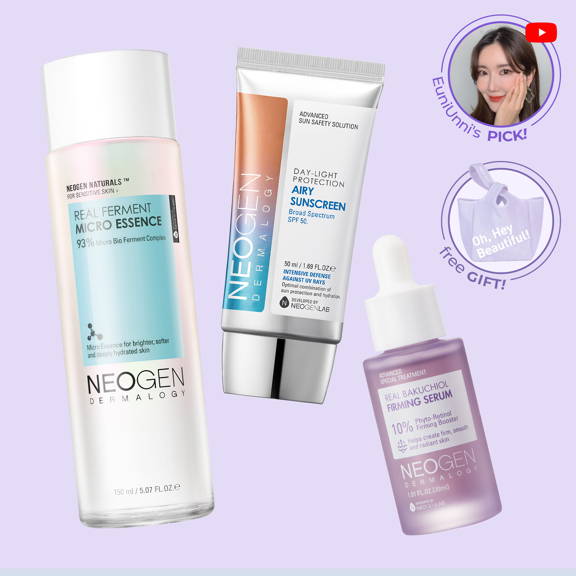 ThizisDanny's Bundle
Danny's set features a simple yet powerful skincare routine ideal for those struggling
with dry or combination skin.
Green Tea Moist PHA Gauze Peeling Pads: These renewed triple-layered gauze peeling pads are
formulated with AHA, BHA, and LHA in addition to the existing PHA ingredient for
more thorough exfoliation, plus green tea extract to soothe skin
and Aquaxyl Biomimetic Fluid Tears™ to moisturize skin. Use the gauze side to exfoliate the skin,
and then the quilted side gently pats in essence.
Real Ferment Micro Serum: The micro serum delivers a concentrated boost of nutrients and
antioxidants to the skin. With a formula that includes 61% fermented ingredients,
Neogen Real Ferment Micro Serum is a gel-like serum that instantly absorbs into the skin
and infuses it with elasticity-improving Bifida ferment lysate and saccharomyces ferment filtrate.
The addition of Betula alba juice provides antioxidant benefits while rice ferment filtrate brightens
the complexion and balances oil production.
V.biome Firming Cream: This cream provides intense nutrition to the skin for more
supple, youthful skin. It's infused with 10% V.Biome Liposome™ which reinforces antioxidant and
collagen production, ten types of peptides that tighten skin, and 19 vitamins that deliver nourishing care.
In addition, our exclusive nanocapsule technology helps penetrate more profound
and quicker into the skin to provide intense firming care and reduce signs of aging.
Use code "DAN15" upon checkout to get the 15% discount AND a lovely fabric tote bag!
*Both promos are available only until February 28th.