Year Round-up: These Were Our Top 10 Best Sellers in 2021
Year Round-up: These Were Our Top 10 Best Sellers in 2021
By: Carolina Malis
A new year comes to an end and we're getting ready to welcome 2022 with open arms, but before we get there,
we'd like to take the time to look back and offer a round of applause to our Top 10 Best-Sellers in 2021.
Some of the products that made the list have been on our Top 10 for years now, while some others joined the Neogen family this year and thanks to you already made it to the top.
Curious to know who takes the crown? Check out our 2021 Best-Sellers list below and make sure these are part of your 2022 skincare lineup.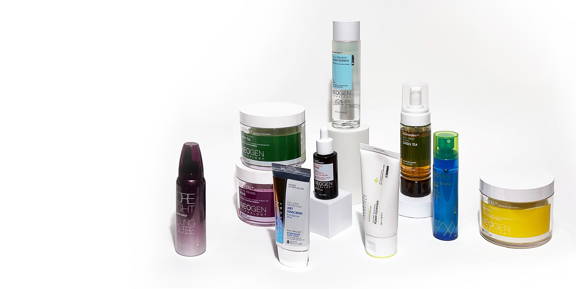 Pore Tight Peeling Mousse
Our viral of virals! The OG Pore Tight Peeling Mousse is a unique mousse-type peeling formulated with alginic acid found in deep-sea marine botanicals
that capture impurities, blackheads, makeup residue, and dead skin cells within your pores to cleanse and purify the skin.
The further added ingredient from purple sea urchins delivers tightening benefits to sagging skin for an overall smoother and firmer-looking complexion.
Green Tea Real Fresh Foam Cleanser
A must-have for those with oily, combination, or acne-prone skin! This popular cleanser features fermented green tea extract, which brightens, calms, and hydrates skin.
The gentle foam effectively removes impurities such as sweat and dirt from the skin without stripping your skin's natural oils.
Lightweight and hydrating, this is the perfect water-based cleanser to use in your double-cleansing routine.

All Day Locking Fixer
Makeup lovers, rejoice! Time to wave makeup residue buh-bye. Infused with powerful fixing polymers,
the All Day Locking Fixer helps makeup stay put
and last throughout the day without any smears by creating a double coating layer that hydrates and shields your skin for extra moisture-locking.
Real Vita C Serum
Enriched with 22% of sodium ascorbyl phosphate and niacinamide, this potent serum reduces blemishes, brightens dull skin tone, and nourishes tired skin to reveal a healthy-looking complexion.
It's also formulated with collagen and hyaluronic acid for moisturizing and smoothing effects, as well as citrus fruit extracts to revitalize your skin.
A-Clear Soothing Foam Cleanser
Are you prone to breakouts, inflammation, and/or clogged pores?
Then this cleanser could be your best friend for life.
The A-Clear Soothing Foam cleanser is packed with acne-fighting ingredients such as Salicylic acid, tea tree oil, and Centella Asiatica extract,
which together help target breakouts by removing excess oils, eliminating dirt and bacteria, and calming redness and irritation. A true superhero!
Lemon Bio-Peel Gauze Peeling Pads
Who doesn't love a 2-in-1 situation?
G
ather the benefits of physical and chemical exfoliation in one gentle yet hard-working product!
These 30 single-use exfoliating pads use a powerful combination of chemical exfoliants—including lactic acid, glycolic acid, and lemon, orange, and papaya extracts—
to clear clogged pores while simultaneously harnessing the power of natural vitamin C to help fade acne scars and even out the skin tone.
Dead skin cells are also physically sloughed off through the unique three-layer pad technology that reveals a bright, fresh layer of skin.
Green Tea Bio-Peel Gauze Peeling Pads
Bless the green tea powers!
The Bio-Peel Gauze Peeling Green Tea provides gentle yet effective exfoliation of dead skin cells and impurities, leaving skin smoother and clear.
Dead skin cells are sloughed off the surface of the skin using the unique 3 layer pad technology.
Its star ingredient, Green Tea, is a powerful antioxidant that prevents premature aging and is an anti-inflammatory that helps soothe irritated skin.
Wine Bio-Peel Gauze Peeling Pads
The Wine Bio-Peel pads provide gentle yet effective exfoliation of dead skin cells and impurities, leaving skin smoother and clear.
Dead skin cells are sloughed off the surface of the skin as lactic acid penetrates deep into your pores to clean out pore-clogging debris.
Its star ingredient, Resveratrol, comes from red wine and is naturally fermented, with naturally occurring AHAs that also help with the exfoliation process.
Resveratrol is a powerful antioxidant that helps prevent free radicals from pigmenting or forming wrinkles on your skin.
Real Ferment Micro Essence
An all-time winner, the Real Ferment Micro Essence is that product everyone and their mothers simply can't live without.
This deeply hydrating and brightening essence contains more than 93% naturally fermented ingredients,
including Bifida ferment lysate and 28% saccharomyces ferment filtrate, to deliver instant moisture and skin-plumping benefits. T
his fragrance-free fermented treatment is also formulated with 17% birch juice to add hydration and 9% rice extracts to illuminate skin from within.
Glow-time in a bottle!
Daylight Protection Airy sunscreen
The newest member to join our UV-protection family!
The Airy Sunscreen provides weightless sun protection while balancing oil production and hydrating the skin.
Formulated with 20 different plant extracts, including moisturizing damask rose, aloe, raspberry, avocado, yarrow, and more, its lightweight, non-greasy texture
immediately absorbs into the skin for SPF 50+ broad-spectrum UV protection without any white cast.
Added evening primrose, giant pine leaf, Ulmus davidiana, and Pueraria lobata root extracts help reduce shine and provide an airy, silky finish that won't clog pores.