4 Ingredients That Will Boost Your Fall Skincare Routine
4 Ingredients That Will Boost Your Fall Skincare Routine
By: Carolina Malis
While we all have different skin needs, some ingredients in the beauty market can benefit everyone, no matter their skin type. Of course, that doesn't mean these will fix everything you may be struggling with, but adding them to your routine can bring multiple benefits as they help keep your skin healthy, hydrated, and protected — benefits that, at the end of the day, we all need.
So take note and check out these four ingredients that can boost your current Fall routine and the Neogen products that feature them.
Niacinamide

This superstar ingredient is a form of vitamin B3 with the ability to offer multiple benefits at once.
This versatile solution can boost your skin's natural ceramide production levels; it's anti-inflammatory, can fight back hyperpigmentation, smooth out fine lines and wrinkles, minimize the appearance of enlarged pores, improve textured skin, and even restore its defenses against moisture loss, and dehydration. Now talk about multitasking!

The best part? It's so gentle that most people with sensitive skin can safely use it without the risk of irritation.

Neogen products formulated with Niacinamide

✨ Real Niacinamide 15% Serum
✨ Cica Repair Snail Cream
✨ Real Vita C Serum
✨V.Biome Firming Cream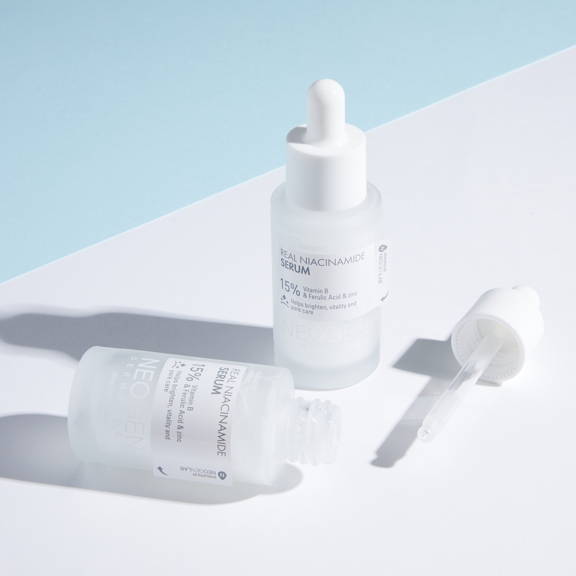 Vitamin C


Considered the go-to ingredient for brightening, Vitamin C is a powerful antioxidant with the power to protect our skin against free radical damage, even out your skin tone, and promote collagen production.
As the first line of defense against the outside world, our skin is constantly exposed to stressors, which can trigger the formation of free radicals. After being exposed for long periods of time, these damaging compounds can accumulate on the skin and inhibit the production of essential proteins, including collagen and elastin (both critical for skin structure and elasticity). Vitamin C has the power to help neutralize those free radicals before they have the chance to accumulate.
That way, this essential nutrient is required for the growth and repair of tissues in all body parts, including the skin, but sadly we cannot produce it on our own, reason why Vitamin C-infused skincare can be of great help.
Neogen products formulated with Vitamin C

🍋 Double Vita Tone-Up Ampoule Mask
🍋 Bio-Peel Gauze Peeling Lemon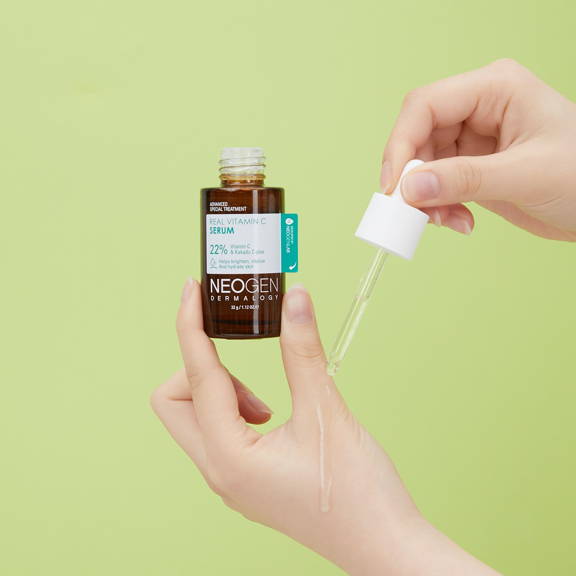 Panthenol

Panthenol is one of those skincare ingredients that, although not as viral or buzzy as others, we can all take lots of advantage of.
Also known as pro-vitamin B5, this powerful humectant can attract and hold moisture. When topically applied, it can increase skin hydration levels and decrease transepidermal water loss. The result is a vast improvement in how skin feels and looks.
But that's not it! Additionally, panthenol may aid in reducing sensitivity-induced redness in the skin and has anti-inflammatory properties.
Neogen products formulated with Panthenol
💦 Calming Cica Tree Micellar Cleansing Water
💦 Sur.Medic Azulene Soothing Cream
💦 A-Clear Aid Soothing Foam Cleanser
Bifida Ferment Lysate

One of our absolute favorite ingredients — and yours too! Bifida ferment lysate is a type of probiotic extracted from a very particular kind of yeast obtained by the fermentation of Bifida bacteria. It can help reactive skin become less sensitive to environmental aggressors by strengthening its microbiome, which ultimately encourages the skin to repair itself and begin looking healthier visibly.
On top of that, this powerful-yet-gentle ingredient can help reduce the proliferation of harmful microorganisms on your skin's surface, potentially improving common, often uncomfortable skin concerns and deeply hydrating your skin.
Neogen products formulated with Bifida Ferment Lysate
🍃 Probiotics Relief Toning Pad