Achieve Your Best Skin Yet With The New Niacinamide and Vitamin C Serums
Achieve Your Best Skin Yet With The New Niacinamide and Vitamin C Serums

By: Carolina Malis


Our serums family has two new members and we're so excited to introduce you to them!
Serums are formulas designed to deliver powerful ingredients directly into the skin to help you deal with a variety of skin struggles.
These formulas are usually made up of smaller molecules that can easily penetrate deeply into the skin to deliver high concentrations of active ingredients to target your particular skin problems, from sun spots to wrinkles, from dryness to pores.
That's why we're bringing you two new superheroes to help boost your skincare routine so your skin is at its healthiest!
Formulated with 15% niacinamide, this serum helps brighten up dull skin tone, lightens hyperpigmentation, and evens your skin tone while soothing irritated skin, and controlling sebum production for a smooth, dewy complexion. ⁠
⁠Featuring high-antioxidant power ingredients such as Ferulic Acid and Vitamin B it also protects the skin against environmental stressors and boosts its radiance.
This water-essence-like formula has been approved by the Korea Vegan Certification Standards and Skin Irritation Tests, making it suitable for those with sensitive skin and reactive complexions.
⁠Key Ingredients
Niacinamide: This effective yet gentle ingredient minimizes the appearance of enlarged pores, improves skin texture, and ⁠restores your skin's power to prevent moisture loss and dehydration. Additionally, it can visibly even out skin tone and discolorations from sun damage.⁠
⁠Arbutin: Versatile and gentle on the skin, Arbutin suppresses melanin activity in the skin, helping to decrease unwanted pigment that can occur due to sun exposure. Thanks to its anti-inflammatory properties, it is also useful for fading scars.⁠
⁠Ferulic Acid: A powerful antioxidant that acts as a shield to protect your skin against free-radical formation. It also reduces the formation of fine lines and wrinkles, decreases inflammation, and lessens the formation of brown spots.⁠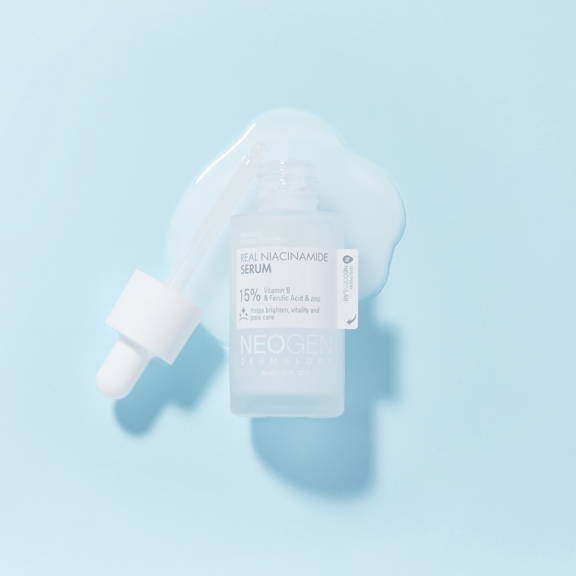 A new brightening hero joins our family!

⁠The new Real Vitamin C Serum features 10% stabilized Vitamin C derivatives and 12% Kakadu C-plex (a highly antioxidant concentrate made of Kakadu Plum and vitamin C & E rich plant extracts) on top of Ferulic acid.
⁠
This lightweight, non-sticky, vegan-friendly serum helps improve skin tone and texture while revitalizing your skin and bringing back elasticity for a radiant complexion.⁠
⁠
The new Real Vitamin C Serum 22% is the perfect synergy between the antioxidant powers of Ferulic Acid, the brightening effects of Vitamin C, the enhancing capabilities of Kakadu C-plex, and three types of deeply moisturizing Hyaluronic Acid, on top of soothing Panthenol.⁠
⁠
You may be wondering, how is this different from our original Vita C Serum? This new formula features Kakadu C-plex, a concentrate formulated with plant-based Vitamin C & E-rich ingredients to help trigger cell regeneration, preventing premature aging and nourishing your skin while enhancing its elasticity.
Kakadu C-plex Ingredients:
Kakadu Plum:The high levels of vitamin C in Kakadu Plums act as a powerful skin-protective antioxidant, making it an important nutrient for skin rehydration. Additionally, it enhances skin barrier function and helps reduce water loss, which prevents dry skin.
Kale: This leafy green has one of the highest contents of beta-carotene among superfoods and green vegetables worldwide. It's packed with antioxidants and vitamins A, B, C, K, and E, the reason why it's great for brightening and can help reduce the appearance of dark spots.
Noni: This fruit extract can help reduce premature signs of aging, as well as work to improve the overall health of your skin. It's rich in essential fatty acids and antioxidants, which will allow your skin to better retain moisture and fight free radicals.
Chicory: This natural inflammation reducer contains high levels of beta-carotene, which increases collagen production and with it skin elasticity, plumping and hydrating your skin, and creating a more youthful look.
Avocado: Avocado oil is abundant in antioxidants, plant sterols, omega-9, minerals, and vitamins C and E. Together, these nutrients can help boost the production of collagen, soothe inflammation, and lift away old skin cells.
Pistachio: Pistachio oil's high levels of Vitamin E also help to improve the skin's elasticity, which helps stop fine lines and wrinkles from forming.