New in! Meet the Day-Light Protection Airy Sunscreen
By: Carolina Malis
Rejoice, sunscreen lovers! A new member has joined the family and it brings ~airy~ vibes with it.

You've heard this from us probably 50 hundred times so far, but to be honest it's just never enough: wearing sunscreen it's a 365 days a year kind of commitment, no matter the weather. Wearing sunscreen every single day can help prevent certain conditions such as premature skin aging, sunburns, fine lines, dark spots, and even more important, skin cancer. The risks of exposing ourselves to UV rays and their harmful powers are serious; did you know skin cancer affects over 5 million people each year?
Now, you may be wondering: But, isn't sun exposure vital to my overall health and wellbeing? Yes, it is! The Vitamin D we get from the sun can help us in a plethora of ways, but excessive exposure to the sun without the proper protection you're going to accumulate damage in the skin, which can lead to developing cancerous skin lesions later in life.
That's why every year in May we join the world to commemorate Skin Cancer Awareness month, and
this year we do so with a special new friend.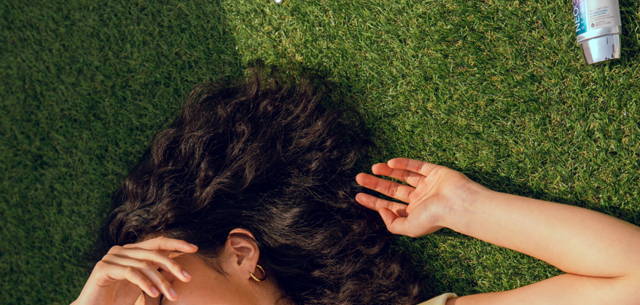 Skin cancer is America's most common cancer, but not a lot of people are aware of that. At the same time, this form of cancer is one of the most preventable, and yes, as you probably already guessed, a big part of that prevention plan resides in wearing sunscreen. Now, the biggest reason people struggle with when buying r wearing it? If not chosen correctly it can be quite sticky and uncomfortable, but in 2021 options are endless, and believe us when we tell you, there is a sunscreen out there that you're gonna love; even better, today might be the day you find ~ the one ~.
If you're already a fan of our original Day-Light Protection Sunscreen, get ready to meet its lighter partner: world, meet the Day-Light Protection Airy Sunscreen, a lightweight, chemical SPF 50 formula featuring 20 types of plant extracts that help soothe, moisturize, and controls sebum while keeping your skin hydrated and plump even under harsh sunlight. Best part? Its non-greasy formula is ideal for those with oilier skin types as it will give an airy finish without stickiness, protecting your delicate skin from harmful UV rays.
Wondering about the ingredients? This new sunscreen features moisturizing extracts such as Damask Rose, Aloe Vera, Raspberry, Avocado Fruit, Baobab, Purslane, Yarrow, Arnica Montana, Mud Mushroom, Coptis Chinensis Root Extract; Soothing Ingredients like Lemon, Lemon Verbena Leaf, Low Sweet Blueberry, Mugwort, Acai Palm Fruit, and Hibiscus Flower Extract; and of course, Sebum Control factors such as Evening primrose, giant Pine leaf, Ulmus davidiana Root Extract, and Pueraria Lobata Root Extract.
With summer approaching and with our skin getting exposed to the sun for longer, it's a must to find the sunscreen(s) that will be your faithful companion during the season, and something tells us the Day-Light Protection Airy Sunscreen could be the answer to that.