Practice Self Care with Neogen
PRACTICE SELF-CARE, WITH NEOGEN

By: Carolina Malis


At this point, we're all aware mental health is wealth, and every year during May, we're reminded how precious it is to feel mentally, behaviorally, and emotionally stable.
There's still a massive stigma around mental health, and even though treatment for it has been available for decades, only now do people all around the world get proper access to it.
Most individuals hesitate to seek help or even bring up the matter with their loved ones for fear of being judged and facing unnecessary backlash, but just as whenever we are hurt physically, we seek treatment to get better, we should do so too when hurting physiologically.
We've all been through a lot these past years; vaccinations, quarantining, working from home, disrupted schedules, and lack of social interaction took a toll on our stability, so now, as we honor May as Mental Health Awareness Month, we invite you to find ways to help yourself, no matter how that looks for you.
From reaching out to someone to speaking to a professional, or giving yourself some extra self-care time, now is a good time to pause and reflect. This is the time to focus on healing, reaching out, and connecting in safe ways by acknowledging that it's okay not to be okay.
One of our preferred forms of at-home self-care is disconnecting from the virtual world, lighting up a few candles, and jumping on a pampering session. And to make things easier, we selected some of our favorite products to indulge in some self-love — and of course, we added some extra discounts — so you give yourself time to take care of the most important person in your life: you!


Let roses soothe your way into relaxation! These 100% cotton essence pads help remove dead skin cells while deeply hydrating your skin and soothing irritation and inflammation. They're formulated with three types of rose extracts: Damask rose water, Damask rose extract, Damask rose oil, and eight types of hyaluronic acid to balance out and moisturize your skin.

Mask up, lay down, and relax! With the power to help hyper-sensitive skin regain radiance, these sheet masks contain super probiotics-charged essence to improve skin resilience while providing intensive, long-lasting hydration and soothing irritated patches. Just leave it on your face for around 10-20 minutes and get ready to glow!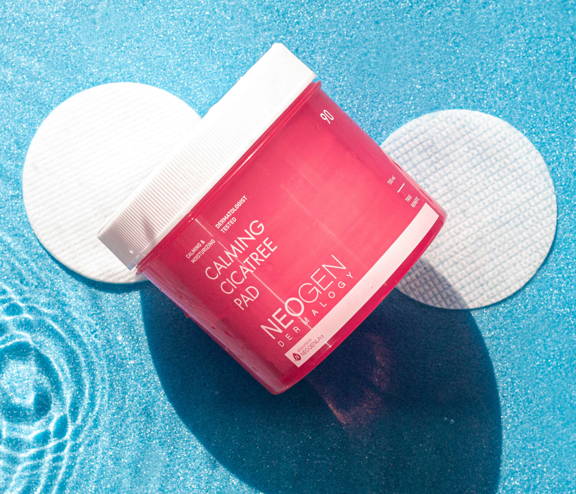 Powered with tea tree extract, zinc, and LHA to fight blemishes, on top of five cica extracts to soothe skin, PHA to improve texture, and five kinds of ceramide as well as eight kinds of hyaluronic acid to moisturize skin, these pads are sensitive, inflamed, stressed skin dreams come true. Simply wipe along the skin to exfoliate dead skin cells, and then flip over and pat essence onto the skin.



SUR.MEDIC THERMAL WATER FOOT SPA HEEL PATCH
Your feet deserve some TLC as well! The Thermal Water Foot Spa patches feature French Auvergne hot spring water rich in minerals and Italian carbonated water to soften skin waste and dead skin cells quickly. In addition, these moisturizing coating care heel patches protect dry skin thanks to the unsaturated fatty acids in the formula, which help to prevent moisture loss and helps to strengthen the skin barrier.

RE:P BIO FRESH MASK ALMING CICA TREE PADS

We're always looking forward to a mask session! Calm irritated skin and reduce redness and inflammation with this mask formulated with fresh herbs that gently remove debris and dead skin cells while you massage it into your skin. Kaolin, a gentle yet powerful mineral clay, draws out impurities for smoother, softer skin. Additionally, crushed calendula and chamomile, visible in the formula, reduce inflammation and aid skin recovery.
*** If you or someone your know is struggling with mental health, call 1-800-273-TALK (8255) to reach a 24-hour crisis center available through the National Suicide Prevention Lifeline or Text MHA to 741741 to connect with a trained Crisis Counselor from Crisis Text Line.