Back-To-School Bundles For Your Healthiest Skin Ever
By: Carolina Malis
Believe us, we can't believe it's going to be September in a few days either. The end of summer is almost here and with it, Back-to-School season becomes a reality, the reason why it's important to gather your essentials to make the best out of dorm life, workdays, or at-home school.
Summer weather can play not-so-fun games with our skin, and we're about to experience transitional weather which can also be harsh on our complexion, so it's a must to make sure you stock up on the essentials for glowy, healthy, and youthful skin.
No matter what your particular scenario is, there are some skincare products and steps that can truly serve as superheroes for these trying times, so keep reading to discover some of our favorite Back-To-School bundles so you kick off this new era feeling and looking flawless.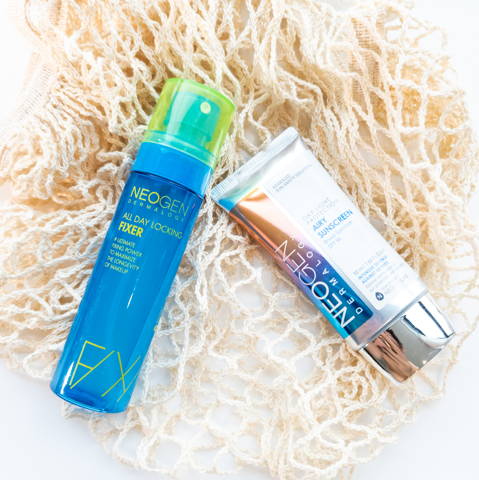 On-the-go buddies: Day-light Protection Airy Sunscreen + All Day Locking Fixer

A duo for the win! This bundle will keep your skin and makeup put all day long, no matter how busy your day might be. On one side, the Airy Sunscreen's lightweight formula infused with 20 types of plant extracts, will soothe, moisturize, and control sebum production while keeping your skin hydrated and radiant even under harsh sunlight. On the other side, the All Day Locking Fixer is infused with powerful fixing polymers, which help makeup stay put and last throughout the day without any smears. Its double-layered texture of water and oil boosts hydration from within and helps form a protective barrier on the outer layer of your skin.
Skin Detox Complex: Real Ferment Micro Toner + Day-light Protection Airy Sunscreen
Get ready for smooth, balanced skin with this bundle made to get rid of those dead skin cells that refuse to abandon your complexion. The Real Ferment Micro Toner is a mildly acidic soothing toner formulated with 90% Bio Ferment Complex, known to improve and strengthen the skin barrier, and AHA/BHA/PHA/LHA ingredients to effectively cleanse away dead skin cells and pick up pore residue left over after cleansing, leaving your skin moist and illuminated. On top of that, the Daylight Protection Air Sunscreen's non-sticky texture will offer easy application just like cream without leaving any white cast, while its non-greasy formula absorbs well onto your skin leaving it fresh and soft.
Just the essentials: Calming Cica Tree Micellar Cleansing Foam + Real Ferment Micro Serum + Probiotics Relief Cream
Keep your skin clean, plump, and hydrated no matter what with this powerful trio ready to make your nighttime routine dreams come true. A lightweight cleansing foam that gently cleanses away pore impurities and keeps skin hydrated and calm without any tightness, an intensive gel-type serum formulated with 61% natural fermented ingredients, and active ingredients like panthenol and collagen that quickly absorb into the skin to help reinforce skin elasticity while delivering instant hydration and skin radiance, and a firming, radiance-booster moisturizer with real probiotics to protect your skin barrier and minimize the signs of photoaging. Truly a match made in heaven.
Vita Synergy Brightening Kit: Real Vita C Serum + Bio-peel Gauze Peeling Lemon

Brightening dreams are made of this! This antioxidants-infused combo combines a potent Vitamin C Serum enriched with Niacinamide and 22% Sodium Ascorbyl Phosphate along with citrus fruit extracts and vitamin complex that brightens and firms the appearance of your skin, and a jar of dual-texture exfoliating gauze pads soaked in a Vitamin C rich serum formulated from various antioxidants and natural ingredients to leave your skin smoother, radiant, and brighter than ever.