Centella Asiatica - a.k.a. CICA: The soothing ingredient your skin has been waiting for
By: Carolina Malis
If you're a skincare lover, you've probably heard about Cica already, but as new as the ingredient is to the pop beauty industry, the herb has been popular in traditional Chinese medicine for a very long time. But what is it exactly?

Centella Asiatica - a.k.a. Cica - is an antioxidant-herbal extract packed with amino acids and incredibly soothing properties. It also boasts high levels of essential fatty acids, which help to strengthen skin, boost hydration and protect it from environmental damage.

The extract's antibacterial, anti-inflammatory, pro-healing, and scar inhibiting potential is the reason why skincare products formulated with Cica can provide the skin with calming, soothing, and moisturizing effects. This is why cica-infused skincare can be so good for sensitive, inflamed skin, or those dealing with conditions such as psoriasis, eczema, dermatitis, and even as an ointment for the treatment of burns.
Whether you struggle with sensitive skin regularly or not, we are all prone to get our skin sensitized from time to time, maybe because of the weather, hormones, or new products/ingredients we're introducing to our routine. That's why Cica is truly a multifaceted ingredient, as it can suit everyone and anyone's skin conditions and help boost collagen production, which we all could take advantage of.
When talking skincare routines, and no matter how kind and careful we are, the process of cleansing is a stressful one for our skin, reason why it's not only important to be gentle technique-wise but also to keep an eye on the ingredients that will help our skin get clean without stripping it from its natural and very necessary oils.
That's why Neogen created a full line-up of cleansers with Cica as the protagonist: they're made to gently-yet-deeply cleanse your skin while keeping it hydrated and decreasing inflammation and irritation that could alter your skin's pH levels. Not sure what's the right one for you? Check out below how each of these holy grails works and which are calling your name! (beware, it may be all four of them).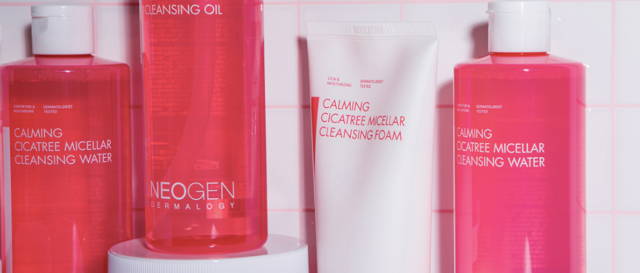 A lightweight micellar-structured cleansing oil formulated to provide deep yet gentle cleansing by getting rid of debris and makeup. It features LHA agents to deeply penetrate your pores, and Cica complex + Tea Tree Leaf oils to soothe and protect irritated skin.

An innovative formula made to help balance your skin's pH levels and minimize irritation. Ideal for those with sensitive skin types as it easily cleanses away makeup and any residue, while its Cica-infused formula helps calm down inflammation and redness.

This rich, fine foam gently cleanses away impurities trapped inside your pores without stripping your skin from its natural oils. Its Micellar-structured fine bubbles gently cleanse away waste and makeup residue, while the slightly acidic formula featuring our Cica complex + Tea Tree Leaf oils soothes irritated skin and keeps it moisturized.

Our Cicatree pads are powered with five types of Cica extracts to soothe and calm down your skin. ⁠The formula also includes tea tree extract, zinc, and LHA to control and reduce blemishes, ⁠PHA agents to improve skin texture, and 5 kinds of ceramides as well as 8 kinds of hyaluronic acid to deeply moisturize and protect your skin from environmental aggressors.